Thank you Priyanthi and welcome Priti!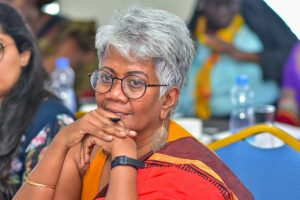 At the end of August 2023, IWRAW Asia Pacific will bid a fond farewell to our outstanding Executive Director Priyanthi Fernando. During her seven-year tenure at IWRAW Asia Pacific, Priyanthi's charisma, boldness, dedication, and expertise helped to steer our organisation through numerous complex challenges at both the external and internal levels. Her leadership during the tumult of COVID-19 managed to keep the team's motivation and safeguard the organisation's cohesion, and provided inspiration to push our work through virtual engagement within IWRAW Asia Pacific and with our broad constituencies. Priyanthi's previous expertise was instrumental in building IWRAW Asia Pacific's programmes particularly on women and macroeconomics and expanding the gender equality framework to address new emerging issues through a new phase in our organisation's approach to women's rights.
Priyanthi has encouraged a radical culture of trust and integrity within the organisation, recognising that advocacy work requires a balance of autonomy and collective support, and has helped us to develop both organisationally and as individuals along strong shared feminist principles. Her resilience and dedication to advancing IWRAW AP's work at the international, regional and national levels has been pivotal for initiating and developing our current change project. We at IWRAW Asia Pacific are immensely grateful for the joint journey of continuous learning, inspiration and achievements, and we wish her the very best in the next phase of her life.
IWRAW Asia Pacific extends our warmest welcome to our incoming Executive Director, Priti Darooka, who will be stepping into this role effective 1 October 2023.
Priti is an expert on gender policy, human rights, and development from the Global South with over 25 years of experience working at international, regional and national levels in advocacy, networking, and organising across diverse sectors and regions with civil society organisations, movements, unions, policy makers, governments, and academia. With a master's degree in women's studies from Rutgers University, USA, Priti has an unmatched passion and a commitment to women's rights. She brings thematic expertise on economic rights with a particular focus on right to work, rights at work, right to social security, and right to livelihoods including right to land from a Global South women's perspective.
Priti has successfully led several advocacy initiatives, facilitated the formation of diverse collectives, and systematically developed feminist analysis. As the founder and Executive Director of PWESCR (Programme on Women's Economic, Social and Cultural Rights), Priti strove to build South feminist leadership and networks with the capacity to monitor and advocate policies by engendering policy, law, and practice at local, national, regional, and international levels. Priti is also the co-founder and global coordinator of BRICS Feminist Watch, a Global South feminist alliance with over 150 members across the world.
Priti joins IWRAW Asia Pacific at a vital time in the feminist movement and larger sociopolitical climate. We are excited to have a thought leader and geopolitical analyst with significant understanding of global politics and governance, Global South issues, and emerging development trends join us to enrich our work. We are elated to work towards achieving new goals together, and we are confident that with her leadership, IWRAW Asia Pacific will continue and expand our work on the frontlines of advocacy for women's human rights and gender equality.
From all of us at IWRAW Asia Pacific's Board of Directors and the team,
Thank you Priyanthi and welcome Priti!