Thank you Priyanthi !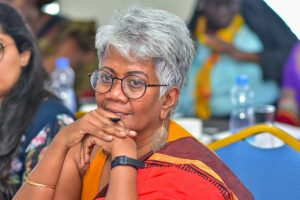 At the end of August 2023, IWRAW Asia Pacific will bid a fond farewell to our outstanding Executive Director Priyanthi Fernando. During her seven-year tenure at IWRAW Asia Pacific, Priyanthi's charisma, boldness, dedication, and expertise helped to steer our organisation through numerous complex challenges at both the external and internal levels. Her leadership during the tumult of COVID-19 managed to keep the team's motivation and safeguard the organisation's cohesion, and provided inspiration to push our work through virtual engagement within IWRAW Asia Pacific and with our broad constituencies. Priyanthi's previous expertise was instrumental in building IWRAW Asia Pacific's programmes particularly on women and macroeconomics and expanding the gender equality framework to address new emerging issues through a new phase in our organisation's approach to women's rights.
Priyanthi has encouraged a radical culture of trust and integrity within the organisation, recognising that advocacy work requires a balance of autonomy and collective support, and has helped us to develop both organisationally and as individuals along strong shared feminist principles. Her resilience and dedication to advancing IWRAW AP's work at the international, regional and national levels has been pivotal for initiating and developing our current change project. We at IWRAW Asia Pacific are immensely grateful for the joint journey of continuous learning, inspiration and achievements, and we wish her the very best in the next phase of her life.
From all of us at IWRAW Asia Pacific's Board of Directors and the team,
Thank you Priyanthi!