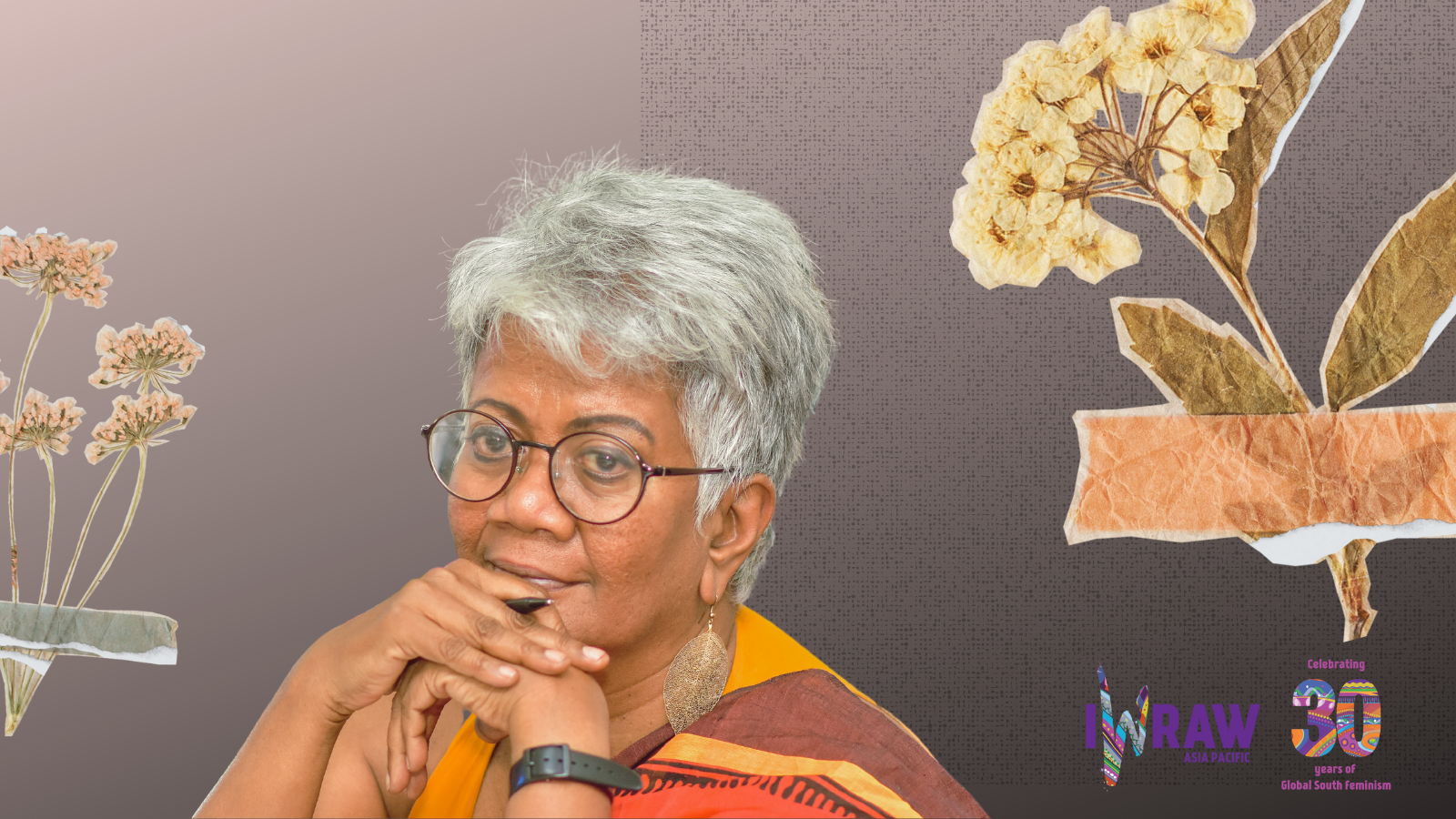 Dear colleagues in IWRAW AP's wider circle of partners, friends, and supporters,
You would have been alerted in different ways that I am transitioning out of IWRAW AP as its executive director and that Priti Darooka will take up the position in October.
The social media posts have made some very positive statements about IWRAW AP's journey over the seven years of my tenure, and I felt really proud and validated! However, I thought that I should share my own perspectives and thank everyone who made that incredible journey possible. Because the achievements are neither mine nor IWRAW AP's alone – they were possible only because there is an amazing ecosystem of support that the organisation was able to draw on, engage with, and learn from.
Central to this ecosystem is the group of civil society organisations, women's rights organisations, and individual activists who share our passion in grounding advocacy in the lived experience of women. You are too many to be named individually, but you have been our strength at the CEDAW sessions and other treaty body spaces; you have joined us in co-creating the annual Global South Women's Forum since 2016; you have been a force in our thematic programmes promoting women's economic rights, environmental justice, countering trafficking, countering anti-gender/anti-rights movements, our work on intersectionality as praxis, and our constant challenge to the dominance of neoliberalism and its negative impact on women's human rights. You helped us to refashion our thinking on CEDAW so that it could have relevance to your constituencies of structurally excluded women and you encouraged us to think about how concepts and ideas that are generated globally resonate (or not) at the local level. Without your input and your solidarity, our journey would have been insipid and dull and we would have had far fewer collective achievements. We are grateful and I feel very privileged to have worked with many of you during these past years.
We have also had an amazing group of organisations and individuals supporting us with financial and other resources. I have to thank the Swiss Agency for Development Cooperation for their core support, and our committed focal points, with whom I have interacted over the last seven years, for keeping the faith – Jürg Schneider, Susanne Amsler, and Patricia Pfister. I believe we have done you proud and that you will continue to support us in the future. I have also had the pleasure of interacting with several other members of the donor community who have been interested in what we do and provided us with additional financial resources. At the risk of inadvertently leaving someone out, I would like to acknowledge the support of Katrin Wilde from the Channel Foundation which has consistently supported our From Global to Local Programme and CEDAW advocacy; Joy Chia, formerly of OSF and now the executive director of Astraea Lesbian Foundation for Justice who, together with her predecessor at OSF, Marina Durano, was a strong inspiration for our work with gender minorities, sex workers, and other marginalised groups of women; Tulika Srivastava and Anisha Chugh, the directors of Women's Fund Asia, and their team, who have been both funders and advisors in what is a very inspiring mutually enriching relationship; Varja Lipovsek from Co-Impact, who picked up IWRAW AP's research proposal (written jointly with The George Institute) on GBV and CEDAW compliance – now the GRACE project; and Daria Caliguire from the SAGE Foundation, who has given us invaluable advice and feedback. The Laudes Foundation, which has supported our campaign work on C190, was flexible enough to divert some of the funds to the pathbreaking online Global Tribunal for Women Workers which we organised in 2022. With support from the FORD Foundation and Wellspring, we are challenging the dominant economic paradigm at different levels. Our membership in the Women Gaining Ground consortium, led by CREA and supported by the Dutch MOFA, and our Forging Intersectional Feminist Futures consortium, supported by VOICE whose director is an alumnus of IWRAW AP, have strengthened our ability to respond and work with more structurally excluded women's groups. Without all these wonderful people giving us their money and their time, and standing by us during the difficult years of the pandemic, we would not have progressed this far, and I am looking forward to this positive experience translating into continued support for the next phase of IWRAW AP.
Financial resources are just one element of many resources that an organisation needs to make this journey. IWRAW AP is proud to be able to draw from a range of consultants and service providers who share our values and who have helped us to create inclusive and enabling spaces online and in person and who have accompanied us in every aspect of our work – from delivering our strategy and reflections on organisational development, to facilitating our discussions, to providing travel support, to providing interpretation and documentation, to supporting technical upgrades, and to accompanying us in our fundraising efforts. These are the behind-the-scenes stalwarts without whom we would not be where we are now. Our success is their success and I am certain they will be there to support IWRAW AP in the many years ahead.
I need to express my thanks to the CEDAW Committee and CEDAW Secretariat. Popularly dubbed the 'CEDAW NGO', we are in Geneva three times a year, supporting the CEDAW Committee's engagement with civil society organisations. This has spawned a mutually respectful close relationship that is not always without challenges, but which has, I believe, supported the Committee's ability to engage sensitively with the ground realities of women's lives. The Committee's concluding observations have facilitated the advocacy of women's rights organisations at the national level. The recommendations are an indispensable 'hook' for effecting change and we are grateful. Individual Committee members have been a source of inspiration. In particular I want to thank former Committee member Patricia Schulz for her unwavering support of NGOs, and the friendship she extends to the IWRAW AP team in Geneva. I believe Ms Schulz facilitated the initial conversation with the Swiss Agency for Development Cooperation, and this must not go unappreciated. Thank you Patricia!
Last but not least, the journey would not have taken this form had it not been for the commitment and resilience of the IWRAW AP team, and the trust of IWRAW AP's governing bodies. IWRAW AP's founder, Shanthi Dairiam, is always inspirational in her knowledge and analysis of women's human rights, and of CEDAW in particular, and has continuously held us to account. I am pleased that her long-awaited book Promoting the Equality of Women: IWRAW Asia Pacific's Journey, charting the early journey of IWRAW AP, was published and shared this year – it is definitely a must-read for anyone interested in the history of women's struggle for equality. It shows that today, we stand on the shoulders of giants like Shanthi (and several others mentioned in the book), and many of the rights gained have been secured by the blood, sweat, and tears of these pioneering women's human rights activists. IWRAW AP is proud to continuously push forward their legacy. Other members of our board and advisory committee have shared their expertise, providing substantive and management support both in good times and through the difficult periods.
The last seven years have not been particularly easy; when I joined in 2016, we were struggling with funding, but I am pleased that today our strategy has been fully funded for the last two years. We had to face the pandemic with team members 'displaced' in KL, many away from family, and who had to deliver the strategy in very difficult circumstances. The strategy itself stood us in good stead, but it's the commitment of the young feminists on the team, and their incredible energy, that made it possible for us not just to weather the pandemic but also to use the experience positively. I have worked with great teams throughout my career, but the work of the IWRAW AP team to achieve our overarching goal of realising the promise of CEDAW for all women everywhere, is unparalleled. The team comes from diverse geographical, social, and educational backgrounds and many have experienced violations of their rights, discrimination, and violence because of their gender or racial minority status. This has fuelled their activism and advocacy and it is their dedication, conscientiousness, good humour, support for each other, and determination that has made working with them one of the most stimulating experiences of my (long) working life. Their resolution to ensure that IWRAW AP as an organisation walks the talk of its feminist principles has been particularly challenging, but with the changes being implemented, I am confident IWRAW AP can get there. I echo what everyone who has worked with the team must recognise – they bring value to IWRAW AP and to the women's movement. The road we have trod and the journey we have made at IWRAW AP has been led by them. Congratulations team!
I am transitioning out of IWRAW AP as it celebrates 30 years of its existence. Despite the long history, it remains a relevant and vibrant organisation. In the current context of a growing anti-rights lobby that is infiltrating several critical spaces, and the interwoven challenges from the yet-to-be-smashed patriarchy and undiluted neoliberal capitalism, I believe the work of the organisation continues to be seminal. It has been my privilege to have been part of IWRAW AP's recent journey and I look forward to its leadership on gender equality and women's human rights for many years to come.
Thank you and goodbye.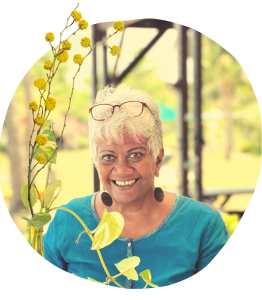 Priyanthi Fernando, executive director of IWRAW Asia Pacific 2016-2023