Global South Women's Forum 2023: BORDER CTRL
28 – 31 October 2023

General context
Interrogating the impact of borders on women's rights in the Global South
Global South Women's Forum on Sustainable Development: A brief history
Rationale and methodology
Welcoming expressions of interest
Guiding questions for contributors
Main objectives
Expected results
General context
Modern-day borders and the systems that uphold them are a means of dividing and classifying populations, with roots in the colonial project. In other words, the border is a colonial wound.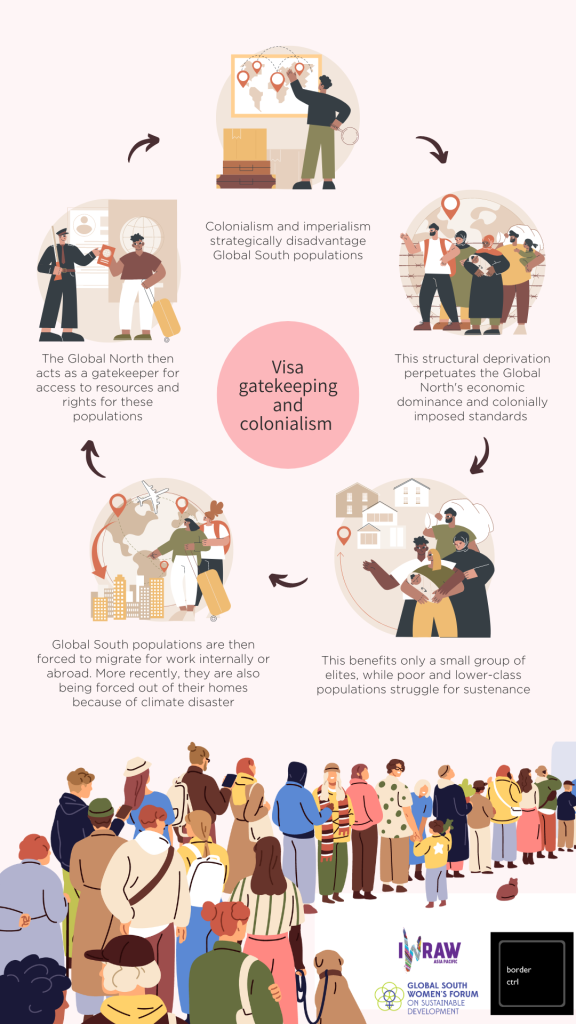 Over a century and a half, more than 62 million Europeans migrated from their lands in service of economic and political domination over the same populations who are excluded from present-day Europe and its former settler colonies through the deployment of harsh immigration controls. Many see colonisation as an event in history, but this distorts how it continues to affect people from the Global South via its deeply entrenched systems. Legacies of colonialism and empire forged by the Global North have strategically disadvantaged Global South populations – who have inherited vast amounts of debt and economic subjugation, territorial divisions based on ethno-religious identities, over-farmed land, and colonial frameworks structuring their legal and educational institutions. This structural deprivation perpetuates the Global North's agenda of continued economic dominance and colonially imposed standards (such as education in English-medium schools and strict border regimes), benefiting only a small fraction of local elites, while poor and lower-class populations struggle for sustenance and often resort to migrating for work internally or abroad. People are compelled to follow the flow of capital and the foreign extraction of resources by large multinational corporations, and are also being forced out of their homes due to climate disaster overwhelmingly caused by entities far removed from their locales. This renders them vulnerable to disenfranchisement, separation from their families, and labour exploitation. The Global North then acts as a gatekeeper for access to resources and rights for these populations by deploying rigid border regimes, and the institutions that it passed on to the Global South mimic these mechanisms, perpetuating the same violence within their territories.
Within just a few generations, modern-day border controls and immigration processes have become seemingly immoveable features of our globalised world. Although passports were not without criticism when they came into global use just over a century ago, the idea of a world without them is unimaginable for most people. Both bureaucratic and brutal, an emphasis on documentation permeates travel and migration today. It has become normalised, together with the violence and discrimination based on race, nationality, ethnicity, income, gender, sexual orientation and religion that it engenders. This preoccupation has extended beyond physical, territorial borders to impact non-citizens' everyday experiences of housing, education, healthcare, employment and much more.
The worldwide disruption caused by the COVID-19 pandemic revealed not only deep-rooted inequities in access to healthcare, wealth, and social, political and cultural rights under a global capitalist system, but also how these are all mediated by border regimes and the institutions that enforce them. Border closures separated transnational couples and families; migrant workers lost their visas due to lockdowns; people awaiting deportation were indefinitely detained and especially vulnerable to COVID-19 in cramped detention centres; and food aid and vaccines were denied to non-citizens. Rather than following the scientific evidence and prioritising equal access for all, so-called public health measures were weaponised against undocumented migrants, who were typecast as vectors of disease, requiring incarceration (which exposed them to a greater risk of infection) and increased state surveillance.
The subsequent return to 'business as usual' is a return to in-person engagements without necessary precautions, to discriminatory visa restrictions, and to the removal of virtual/hybrid options that had facilitated the participation of marginalised populations such as people unable to access visas or funds for travel, people with disabilities, and people living with comorbidities in an ongoing pandemic. In holding the Global South Women's Forum fully online, we aim to avoid the perpetuation of these inequities and to include as many people as we can in our programme, regardless of their citizenship or lack thereof.
Interrogating the impact of borders on women's human rights in the Global South
Monitoring and controlling the flow of people around the world, borders also serve to filter the rights they can access. In the context of late-stage capitalism and right-wing regression, border regimes prioritise profit over people and collectively punish those who are considered to be the wrong kind of 'foreign' – particularly those who are already structurally marginalised – via an intricate web of intersecting threats.
Access to documentation. An absence of documents can perpetuate gender-based violence in myriad ways, not only for migrants and stateless people who may be undocumented, but also for citizens whose identities do not fit the narrow parameters set by national bureaucracies. The absence of safe asylum or migration routes coupled with harmful policies masked as 'anti-trafficking' measures is a source of immense hardship and violence. Discriminatory visa practices hinder and exclude Global South travellers and migrants, inhibit their rights to family life, education, and marriage, and engender exploitative conditions for workers. People who are disenfranchised and/or stateless are exiled and face detention and violence at the hands of states and border enforcement regimes.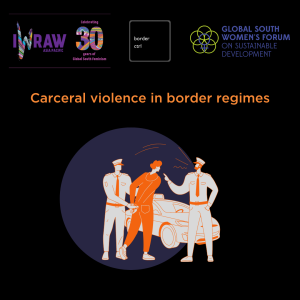 Carceral violence in border regimes. Mistreatment and abuse of people who are on the move or crossing borders is an extension of the same punitive approach wielded by states against citizens who are deemed criminal, contaminated, and/or unwanted. This is the same thinking that turns to prisons as a default response to crime, and that looks to police, rather than to empowerment of communities, for solutions to problems. The regressive portrayal of migration as a security issue has also created a lucrative business opportunity for violent interventions. Corporations profit from border regimes in multiple ways, with private firms handling outsourced visa processing, running detention centres and overseeing physical deportations. Collaborations between tech companies and border agencies enhance the surveillance tools used against people on the move. Although wealthy states' outsourcing of border controls has resulted in far-reaching human rights violations, it has become a feature of aid conditionality for developing countries. Militarised borders demarcating occupied territories are sites of large-scale violence and deprivation of human rights. Carceral regimes even permeate migrant worker programmes, whereby confiscation of workers' documents secures their captivity in their place of employment for as long as their labour is deemed useful.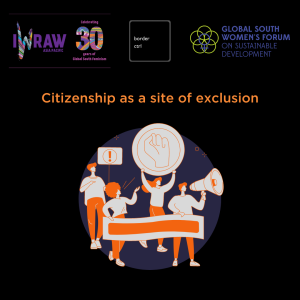 Citizenship as a site of exclusion. Citizenship, as described by Hannah Arendt, is a prerequisite for 'the right to have rights'. Non-citizens, therefore, are structurally deprived of many rights, such as the right to equal protection before the law; the right to work, and to equal pay for equal work; the right to education; the right to healthcare, including gender-affirming healthcare; the right to freely practise their religion; the right to a family life; and the rights to freedom of assembly, association and expression. Gender, sexual orientation, age, disability, ethnicity and nationality are among the factors which further disrupt non-citizens' access to rights. Gender-based discrimination is perpetuated through restrictions on family migration/reunification, relationships, marriage or pregnancy (all of which may be reclassified as privileges which are only to be granted if earning above a certain threshold). Ableist health requirements for visas and citizenship discriminate against those living with HIV, disabilities, and long-term health conditions.
Global South Women's Forum on Sustainable Development: A brief history
In 2016, IWRAW Asia Pacific began to mobilise Global South women's rights organisations around the 2030 Agenda for Sustainable Development. The first Global South Women's Forum (GSWF) was held in Cambodia in 2016, followed by Rwanda in 2017, Jordan in 2018 and Malaysia in 2019. The forums brought together women from different countries of the Global South for convenings which addressed the conceptualisation of sustainable development as a women's rights issue and strategised around working collectively. In 2020, the COVID-19 pandemic led to GSWF being held virtually for the first time, and this meant that GSWF saw greater participation right across the Global South, a model which has been followed since then. GSWF 2020 was themed around feminist macroeconomics, power and justice; GSWF 2021 around Global South feminist visions of environmental justice; and GSWF 2022 hosted the Global Tribunal of Women Workers.
The Global South Women's Forum is key to IWRAW Asia Pacific's work, welcoming diverse local and regional communities to lead dialogues which directly involve their lived realities. It is important to create spaces for women's rights organisations and marginalised communities on the ground, including gender and sexual minorities, ethnic and racial minorities, and women and girls with disabilities, to share their experiences of inequality, discrimination and community resilience, enhance their knowledge, and strengthen their capacity for activism and community building. Most of all, we see this space as a site for solidarity and movement building, validating lived experiences and working together to dismantle institutionalised inequalities.
Rationale and methodology
For this year's virtual GSWF, we intend to include transnational and cross-sectoral representation of movement actors and activists forging links across borders, highlighting common struggles and sharing experiences and strategies, with a pointedly Global South focus.  We want to avoid replicating conversations that already have traction within our orbit, and instead focus on bringing groups and issues from the margins to the centre.
Broadly, our thematic areas will focus on three strands:
Access to documentation: Including discriminatory practices surrounding documents and visas for workers, students, and marriage migrants; the absence of safe asylum/migration routes; and statelessness
Carceral violence in border regimes: Including immigration detention, surveillance, border violence, and exploitation facilitated by migrant worker programmes
Citizenship as a site of exclusion: Including voting rights and political representation, access to healthcare, right to family life, labour rights, etc.
IWRAW Asia Pacific aims to make this year's GSWF as participatory, accessible and conducive to movement and capacity building as is possible in the virtual setting. We acknowledge the challenges and limitations of fully online events, including issues relating to internet connectivity, data costs, time zone incompatibilities, interpretation (including sign language interpretation), captioning, user fatigue, care responsibilities, digital security, familiarity with and usability of platforms, and more. Despite these concerns, we feel that online participation is essential for any international convening relating to borders. Otherwise, borders themselves facilitate the exclusion of the most affected people. We therefore choose to focus our efforts on mitigating as far as possible the limitations of online participation. Please reach out to us at gswf@iwraw-ap.org with any specific accessibility needs you might have and we will work to accommodate them.
Welcoming expressions of interest
We welcome expressions of interest from local and regional NGOs, activists and artivists to become partners in the Global South Women's Forum 2023 to build coalitions and have conversations about challenging and dismantling border regimes. We prioritise and want to centre the voices of Global South women and gender non-conforming folks from racial and ethnic minorities, especially Black and Indigenous communities, LGBTIQ+ people, sex workers, people with disabilities, survivors, and others representing marginalised identities. We particularly want to hear from those with lived experience of migration, and those who have been impacted by border regimes in additional ways. We hope to build capacity and solidarity around our shared and intersecting agendas to counter the violence caused by bureaucratic documentation, carceral measures, and disenfranchisement of non-citizens and stateless people.
The GSWF space will be made available to:
share impacts of border regimes on the lived experience of people on the move and those facing detention, and strategies to counteract these
share analyses by NGOs of governments' responses to the exposure of border violence and border-related inequalities and their impacts on the lives of marginalised people
bring examples of possible or already implemented intersectional, intergenerational and inclusive feminist responses to border violence
Please see the submission form for guidance on information to include in your expression of interest. Expressions of interest may alternatively be sent in video or visual format, ensuring that they address the same questions as in the submission form.
Expressions of interest should be sent in English, but if this is a barrier, please contact us at gswf@iwraw-ap.org to check whether we can accommodate submissions in your preferred language. All expressions of interest should be submitted by 11 September 2023.
Guiding questions for contributors
The following is a non-exhaustive list of questions that could be addressed during sessions:
How can we collectively challenge governments' aversion to implementing safe migration and asylum routes, and their weaponisation of anti-trafficking and other measures?
How can we bring into sharper focus the hypocrisy and neocolonialism of the Global North's outsourcing of its border violence through trade and aid conditionality?
Can a state be serious about tackling gender-based violence while simultaneously implementing strict visa policies which force the dependency of women and gender non-conforming people on a spouse, employer or educational institution in order to have rights?
What are some strategies we might use to tie the anti-border movement to the prison abolition movement?
How are carceral measures used to hold migrant workers captive, occupy and militarise territories on borders, profile individuals, and perpetuate other discriminatory and violent policies against marginalised communities?
What are some examples of the systematic exclusion and deprivation of rights of non-citizens in healthcare, family life, voting, and other socio-political spheres? How has this become both prevalent and normalised?
What are the challenges experienced by LGBTIQ+ non-citizens, both in countries which are hostile to all LGBTIQ+ people and in those that are broadly progressive on LGBTIQ+ rights?
How far can the UN and other multilateral systems be used to challenge border-related injustices given that these injustices are built into the functioning of modern-day states?
Can civil society organisations' efforts to mitigate border-related inequalities be reconciled with receiving funds from governments which perpetuate those inequalities?
How are border-related inequalities facilitated by national- or international-level economic policy – e.g., capitalist or neoliberal ideologies, tax or trade systems, livelihood and self-determination? How do these interact with ethnonationalist narratives?
What are relevant strategies and movements that are working to counteract the violence of any combination of the above issues?
How do we ensure that our movements are inclusive of non-citizens?
Main objectives
The main objectives of this convening are to:
Create space to have conversations about borders that are less frequently centred
Strengthen the capacity of participants on issues impacting marginalised communities' human rights through border enforcement
Build coalitions and collective action strategies across regions and themes
Develop inclusive feminist advocacy strategies towards community-based policy responses or alternatives to border regimes
Expected results
The expected results of this convening are:
Discussions with participants interrogating themes of documentation, carceral measures, and the systematic deprivation of the rights of non-citizens under border regimes
Identification of common struggles and goals across regions and contexts
Discussions with participants on shared feminist agendas on interrogating and dismantling borders
Increased knowledge and capacity in the area of migrant rights and border justice
Advocacy strategies with specific gender components and analyses to enhance national policy and influence better border policies
Regional and global campaigns incorporating gender and dismantling borders
Partnerships with organisations like IWRAW Asia Pacific to build capacity and knowledge of women's rights organisations and marginalised communities