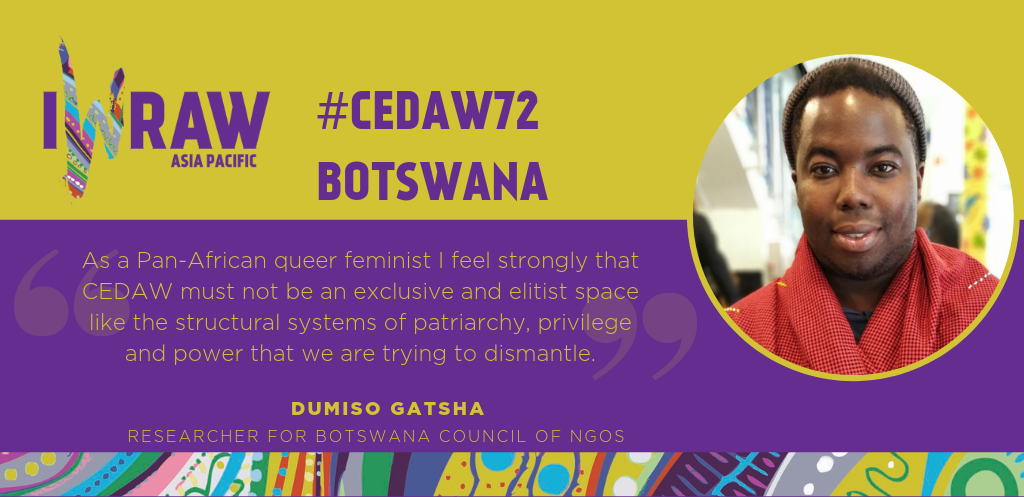 "Why do you go away? So that you can come back. So that you can see the place you came from with new eyes and extra colours. And the people there see you differently, too. Coming back to where you started is not the same as never leaving." – Terry Pratchett
The crisp winter morning of Geneva's air brought a refreshing feeling of hope and joy as I arrived for a weekend focused on knowledge exchange.
The 19-hour journey to get there had me juggling note reviews, writing out grassroots project proposals and applying for consulting bids. This led me to question why there was a need to assert human rights far away from one's country. I reflected on my nine years of experience as a volunteer working in the intricately personal and unbelievably political spaces of human rights. Going to the United Nations (UN) for the 72nd session of the Convention on the Elimination of All Forms of Discrimination against Women (CEDAW) as a representative of the Botswana Council of Non-Governmental Organisations (BOCONGO), I understood the privilege and immense responsibility of attending an esteemed institution of civic participation. This being the second time BOCONGO prepared a report for CEDAW, after a nine-year gap, I was obliged to reflect on my own credibility and conscience.
The thing about acknowledging your role, especially as a researcher, is ensuring that you don't assume and impose singular views when issues are presented – particularly on the lived experiences of a demographic that has been the backbone of human existence, resilience and marginalisation. There is a glaring challenge in highlighting, as a priority, injustice and harm without minimising the valuable perspectives of others. I am a queer big body that has come into privilege through education and economic status, a disposition that has brought me to voice out the lived experiences of a majority who are often excluded, sidelined and disadvantaged from the structurally protected opportunities that include smelling Geneva's crisp developed air.
As I Ubered through the streets in a rush to catch up on an already convened International Women's Rights Action Watch Asia Pacific (IWRAW AP) training on CEDAW, I could easily see the privilege of not having to worry about persecution, civil war or even institutional racism. With IWRAW AP's support, I had the dignity of not having to worry about what I would eat, where I would sleep or how I would travel, as they provided for these. I mention this knowing full well the challenges that grassroots youth organisations such as Success Capital Organisation go through in attempting to secure these simple dignities within their home environments, let alone where international human rights mechanisms are based.
Navigating an intimidating space of exclusivity and elitism such as CEDAW isn't the easiest for a novice like myself. Thus when the training covered the practicalities of engaging in some of the activities, I felt at home. Home in the sense that I could belong within this unfamiliar environment. The institutional power of having an established organisation back your efforts cannot be ignored. You immediately assume a privilege of knowledge, networks and insight that can level the playing field against your state's delegation – as the latter arrives in numbers with protocol offices and a government-wide resource pool of statistics and policies on which you are to present shortcomings. This is much like the situation back home, except back home there are already well established human rights defenders who have inroads with the state and have assumed their power within civil society. So as a young activist, all one can do is absorb as much as possible and ask questions.
When requested to present a statement, I understood the challenge of representation. It would be unjust for me to be part of the group making a public statement, knowing the optics of advocating on behalf of another demographic. Although the same can be said for actually preparing the statement, who it comes from sends a far greater message to the powers that be. Recognising one's position in activism is so important, as this position can include both that of the oppressor and the oppressed. For example, having a straight cis woman of privilege articulate issues of homelessness among queer women can be good in content, but never as impactful as having those women in the room. We must recognise that her privilege allowed/enabled her, rather than others, to be in that exclusive/limited space, simultaneously limiting inclusion. However, if homeless queer women were enabled to occupy that space, there would be the kind of representation that encourages others to have a voice within their spheres of influence at home, school, work or other treaty/special procedure platforms. I believe visibility is where movements must stem from; where leadership and those of privilege can bring everyone else along in a way that can be mentally safe and enabling. Resources, trainings and recognition will never be enough to build a movement that can effect meaningful change.
I can speak of the benefits of making public statements, taking questions from committee members in informal briefings, but this is not where the work is. The work is in listening and observing the state commentary. The expressions that leave you questioning whether the assumed position presented on certain issues is that of the state or of the individual answering questions. The work lies in using this as a foundation for engagement with the state and its organs. Catching what will be left out of the state report, concluding observations and even other shadow reports from civil society counterparts and UN agencies. The bearers of responsibility and duty for people's rights reveal themselves during the Q&A. It's not just in the words used (especially the unprepared ones) but also in the trinkets of success and opportunity one can leverage on.
I say this because the work of advocacy is best placed in one's home country. Even if that space is more intolerant and regressive, it brings about the internal work that is often reflected in the human rights advancements of any cause or issue. These global/regional platforms certainly assist, especially where solidarity is needed and impunity persists. However, it is in the contexts that are most repulsive in their treatment of human rights defenders that allies and those with shared interests can advance human rights struggles. My work now lies in trying to figure out how best to approach domestic leaders without being enemies. Human rights work has been politicised, especially where human rights are already subject to populism, capitalism and conservatism. Thus, the space to be challenging this is in mechanisms such as CEDAW.
I left armed with the credibility of having presented a face in Geneva that could be recognised in the near future for dialogue. This is most important: that conversations are held at home even though you may travel far beyond it to access the representatives of the state. The credibility of having attended CEDAW brings with it opportunities for dialogue with the state and sharing knowledge with other activists for further change.



Dumiso Gatsha (Dumi) served as a research consultant for the Botswana of the Council of NGOs. Dumi is a human rights defender, feminist and part-time PhD (Law) candidate; a Fellow member of the Chartered Institute of Management Accountants and an independent consultant for state shadow reports, participatory human rights research and grassroots civic action. Instagram | Website | Email