Annexe I: Basic concepts of macroeconomics
At the international level
A bank is a for-profit financial institution which accepts deposits and makes loans. In its most basic function, banks help people to make all kinds of transactions easily in the market. Without banks, it would be difficult to store, carry, and exchange money in the form of cash.
Furthermore, banks act as intermediaries between those who would like to lend money and those who would like to borrow money. When people deposit money in a bank (in the form of a savings or checking account), banks pay interest rates to their customers. Then, banks use the deposited amount to loan credit to others. However, the interest rate banks charge when they loan money to borrowers is higher than what the bank pays for the deposits. This difference in the interest rate accounts for one of the ways banks make their profit.
There is a strong agreement among scholars who are critical of the mainstream macroeconomics model, that our current economic system grants too much power to private financial institutions. This is because their activities affect all segments of the economy and society. When left unregulated, financial institutions tend to lend irresponsibly1 Pettifor, A. (2017). The Production of Money. (pp. 28–29). in the search for maximising profits, which leads to financial instability or crisis (such as the global financial crisis of 2008).
Financial institutions take high risks through engaging with speculation, with the expectation of higher profits. The financial crisis of 2008 was triggered by the risky mortgage-backed securities created by financial institutions, which extended loans to very vulnerable borrowers with low incomes. For these institutions, risks were transferred by selling trillions of dollars worth of mortgage-backed securities across global financial markets, rendering them dependent on the housing bubble. When the bubble burst (in other words, housing prices started to fall due to lack of demand) it led to the collapse of the financial market. This happened primarily in the US but also other places, creating a global recession.
The governments spent trillions of dollars (of public money) to bail out commercial banks. This is a significant amount of money that could have been used to invest in education, healthcare, or other necessities of the people. In other words, it was the society which paid for the crisis through deteriorating living standards, despite increasing taxes. Therefore, it is imperative to regulate the financial system and financial institutions for a just and sustainable financial system which serves the interests of the people.
---
We have talked before in this starter kit about how the current economic system is skewed towards promoting and protecting the interests of the capital and a select few that have control over it. At the same time, it exacerbates the intersectional discrimination experienced by the majority of people. Aware of this pattern, feminist groups have started campaigns on the issue of government bailouts. They advocate for the public to benefit from these measures (rather than the private sector) when the COVID-19 pandemic has shown that it will have devastating economic consequences for many.
#FeministBailout, which took place between 1-5 June 2020, is a campaign started by AWID. It has taken a collective approach to bring together demands from feminist and economic justice organisations from throughout the world, which are on what a feminist bailout should look like in the face of the crises exacerbated by the COVID-19 pandemic. The #FeministBailout hashtag became a live and evolving hashtag to bring together the demands and feminist solutions.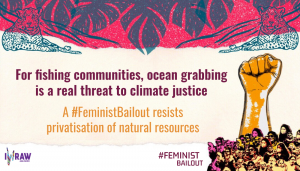 CESR has put out a statement arguing for rights-based global economic stimulus to tackle COVID-19 and drawing attention to the disparities which happen not just within states, but also between states. It has called on rich countries and IFIs "to stop undermining the capacities of other countries to protect the socioeconomic rights of those most at risk in the COVID-19 crisis. This is not only a question of international solidarity—as the IMF has termed it—but an international obligation under human rights law."
---
Mainstream economists maintained a 'loanable funds' model to explain the role of banks and how money circulates.2 Freitag, N. (2020). "Modern Monetary Theory". Exploring Economics. According to this view, banks act as neutral intermediaries between those who would like to lend money and those who would like to borrow money. When people deposit in a bank (in the form of a savings or checking account), banks pay interest rates to their customers. Then, banks use the deposited amount to loan credit to others. The relationship between the demand and supply of these funds determine the interest rate.
However, this model has been credibly challenged by other economic schools of thought. More heterodox schools of economic thought, such as Post-Keynesianism, Modern Monetary Theory (MMT) or Positive Money support an endogenous theory of money which means the money supply is determined by private financial institutions. According to this view, the majority of our money is created by private banks (and not by central banks as widely believed). Banks create money, 'out of thin air', every time they grant a loan.
This simple principle has very significant implications for our money and banking system. If money can be created out of thin air, then it is possible to establish a system in which there is no scarcity of money for the needs of society. However, private banks (ab)use their privilege by creating money when they want to do it and not according to the public interest.
For example, Positive Money supporters advocate for a remedy by way of a new system, in which money is created and controlled by the state through a public institution.3Doorman, F. (2015). Our Money: Towards a New Monetary System. Lulu. MMT scholars call for money creation through public expenditures (funding projects to be used by the public) instead of attempting to create savings by taxes or austerity policies. The Green New Deal proposed by US congresswoman Alexandria Ocasio-Cortez is inspired by this view.
Footnotes